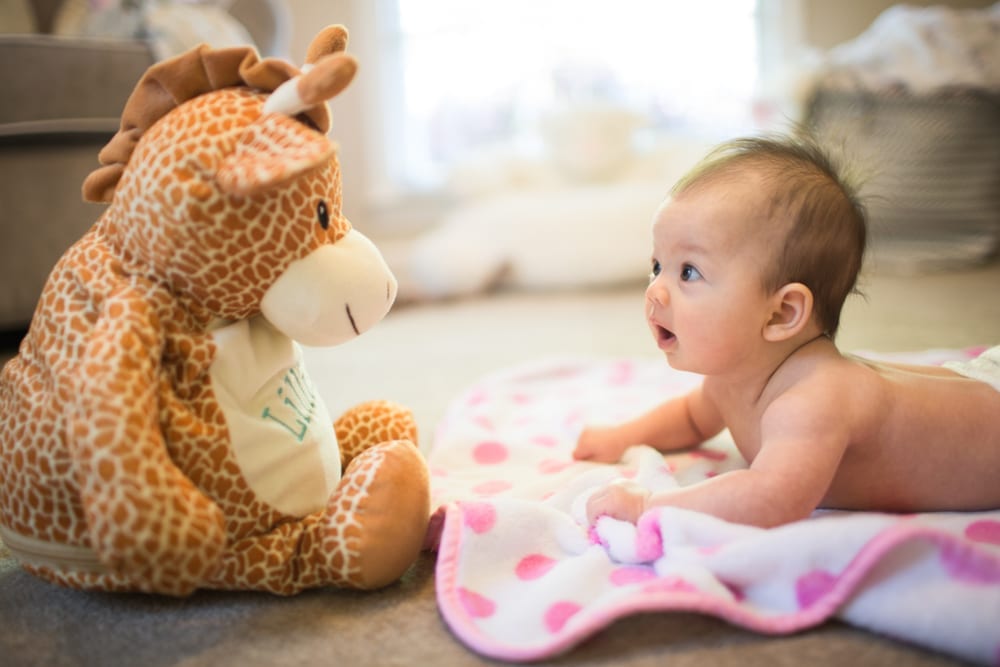 Some of our Favourite Tummy Time Toys:
16 Fun Tummy Time Ideas by Age
It can help to make tummy time a fun experience for them too. Pick one of these great tummy time ideas to try and turn tummy time into playtime for baby. We've split them into age categories so that you can start baby off with gentler activities and move onto more fun and interactive ones.  The age categories are a rough guide for baby and are not intended as a strict age limit.  Feel free to mix and match depending on what your baby likes.  Starting Tummy Time: Newborn – 6 weeks old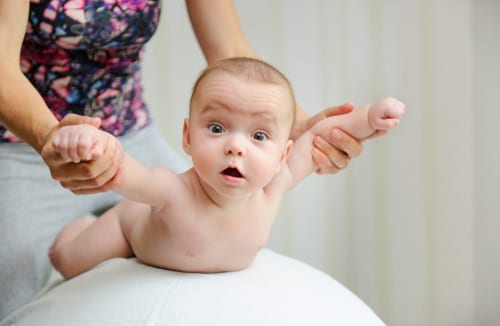 Aeroplane babies
Cradle your baby, lying their tummy across your arms and go for a walk about your house or your local area. Talk to your baby about all the things you see along the way.
Black and white
Babies love looking at black and white patterns. In the first few weeks after birth, their developing eyes can only detect differences between light and dark, or black and white. Placing black and white pictures, board books or toys in front of your baby during tummy time will excite their senses and stimulate them visually. Ideally the book or toy should be 8-12 inches from baby's face, for baby to be able to focus on it.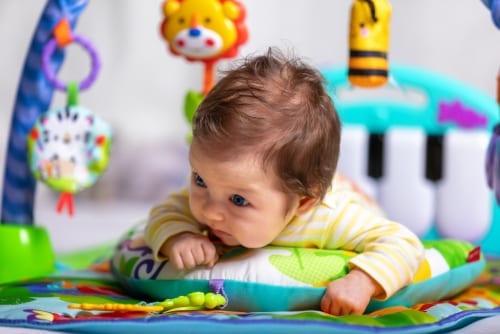 Fun with fabrics
Take a soft piece of sheer fabric – like a silky scarf – and gently sweep it over your baby's face as they lie on their tummy. They will be distracted and excited by the fabric and it can help keep their attention away from thinking about the new position they are in.
Give them a comfy prop
Tummy time can be hard work for little babies. Give them a helping hand by rolling up a soft towel or blanket and placing it under their chest and armpits. This takes the strain off using their core muscles to hold themselves upright. They can focus first on lifting their heads to get a new view of the world.
Work it, baby
Baby gyms provide your baby with instant entertainment during tummy time. With toys to look at, textures to touch on the mat and a soft and comfy place to lie they make the perfect tummy time place.
First Tummy Time Games: 3-4 months old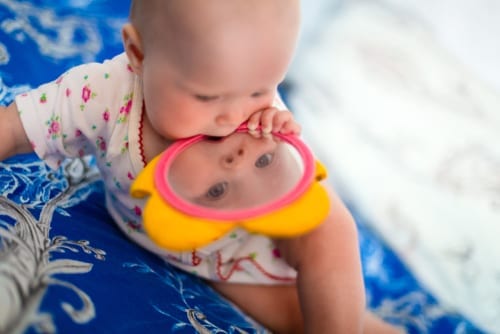 Water baby
You can buy lovely Tummy Time water mats to add new excitement for your baby. Filled with water and floating plastic shapes your baby can lie on the water mat and watch and try to 'catch' the little fish floating by. You can find a water mat for baby in our recommended products at the bottom of this article.
Pop up giggles Water baby
Toys that pop up are great fun to use at Tummy Time. While your baby lies on their tum you can make the toys pop up and they will love watching to see which one will appear next. We should warn that some babies find toys that pop up too quickly or loudly a bit scary. If that's the case then choose pop up toys that move more slowly and gently. But other babies love to see the toys appear out of nowhere and it can make them giggle for ages. As they get older they can have fun making the toys pop up by themselves. 
Mirror, mirror on the floor
It's a truth that babies love looking at faces – and they find their own face fascinating!  Which is why placing a mirror in front of them during tummy time can entertain and distract them. They might even reach out to touch the baby in front of them. 
Sensory Fun and Games: 4 months+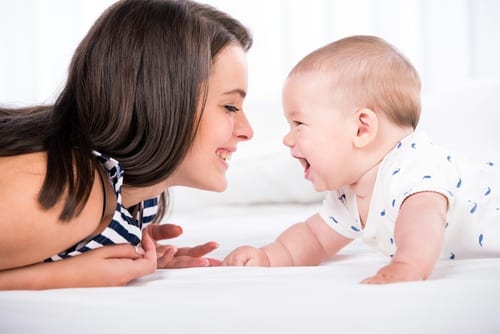 Sensory fun on your tum
It's easy to make your own Tummy Time baby sensory tray. Place some objects in a tray (or on the carpet) in front of your baby that are exciting for them to touch and feel. You could use household items like sponges, net shower pouffes, wooden spoons and plastic teething necklaces.  Babies find everyday objects captivating and love to explore them.
Rubber duckie fun
This is a fun game for babies who are a few months old and can hold themselves up during tummy time. Place a shallow tray full of water in front of your baby (an oven tray works well) and pop in some rubber ducks. Your baby will have great fun splashing their hands in the water and watching the ducks bob along. 
Peekaboo!
Add some giggles to tummy time by playing Peekaboo while your baby is lying on her blanket or mat. It's always lovely to watch your baby's eyes light up as your face (or a toy) appears from behind your hands. It's always lovely to watch your baby's eyes light up as your face (or a toy) appears from behind your hands. So however you choose to get started with tummy time, we hope it's a fun time for your both!